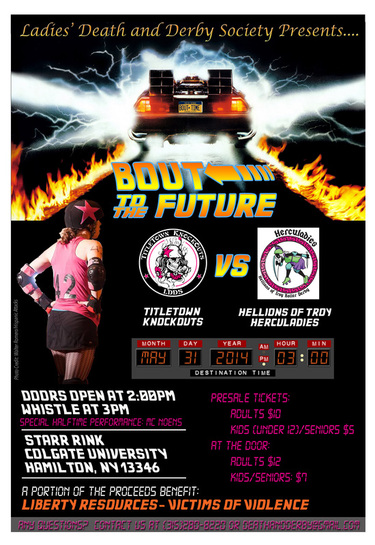 Ladies' Death and Derby Society will host our first home bout of the year on May 31st at Colgate University Starr Rink (13 Oak Drive, Hamilton, NY 13346). Our team, The TitleTown KnockOuts, will take on The Herculadies from The Hellions of Troy in an action-packed, hard hitting match-up.
Doors open at 2pm. Bout starts at 3pm. Bleacher seating is available, but we welcome you to bring your own chair so that you can sit rinkside and get even closer to the action.
A portion of the proceeds will be charitably contributed to the Victims of Violence program at Liberty Resources.
Buy Advance tickets
here.
Adult (ages 13-64): $10
Child (ages 5-12): $5
Child (under 5): Free
Tickets can also be purchased at the door for $2 more/ticket.
Come join us!