2018 Bouts

Check back for our 2018 bout schedule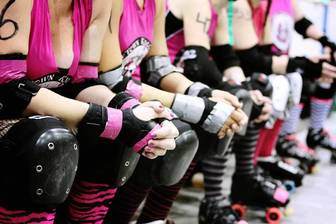 NEW SKATER BOOTCAMP- Winter Session (begins February 4, 2018)
​Curious about roller derby? Interested in learning more, or even becoming a skater?

Ladies' Death and Derby Society is hosting an 8-week New Skater Bootcamp from 9am to 11am every Sunday from February 4th through March 25th at the Oneida Rec Center. (Oneida Recreation Center 217 Cedar Street, Oneida 13421). LDDS is an amateur women's flat-track roller derby league based in Madison County, NY that focuses on athletic competition, community service, and empowerment. We are currently recruiting women (ages 18+) to be skaters and men and women (ages 18+) to be referees and non-skating officials. All skill levels welcome!

After the information session (2/4) all you'll need to bring is your own mouthguard, a one-time payment of $30 (payable by cash or check made out to "Ladies' Death and Derby Society") which covers your participation in the whole bootcamp, and some curiosity! No experience with roller derby or skating is necessary and there will be some gear available for you to borrow. We will teach you everything you need to know.

You can do this! Feel free to share this event with your friends, coworkers, family, anybody that you think may be interested in checking it out. We can't wait to skate with you!
Check out our
Facebook event here.